Federal Grants Contribute to Growth
By Dorsey Griffith
Contributing Writer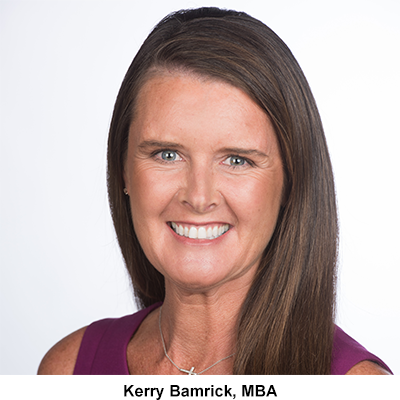 Post-graduate nurse practitioner residency and fellowship programs are rapidly growing in popularity for those seeking careers both in primary care and specialty fields. Since their inception in 2007, there are nearly 250 NP and NP/PA postgraduate residency and fellowship programs across the country, including 14 in California.
Kerry Bamrick, MBA, is executive director of the National Nurse Practitioner Residency and Fellowship Training Consortium ("the Consortium"), the nation's first accrediting organization to accredit joint NP/PA postgraduate residency and fellowship training programs. She said the accelerated growth is partly due to the federal Health Resources & Services Administration (HRSA) decision in 2018 to fund dozens of NP residency programs to prepare primary care and behavioral health NPS to work in integrated, community-based settings.
Along with Lifelong Medical Care in Berkeley and Santa Rosa Community Health Centers in Sonoma County, the UC Davis Health Betty Irene Moore School of Nursing was among the first HRSA grantees in 2019, and it is the university's first NP residency program. Its residents spend 12 months providing clinical services in the primary care setting in Federally Qualified Health Centers and UC Davis Health-affiliated clinics, with about 30% of that time obtaining Wound Treatment Associate certification and intense advanced clinical training. In the final six months, residents continue with primary care and also rotate through specialties such as telehealth, pain management, cardiology and gastroenterology.
"Our residency program is going very well," said Deb Bakerjian, PhD, APRN, FAAN, FAANP, FGSA, UC Davis nursing school Clinical Director. "The residents are in clinical environments to enhance their skillsets, delivering primary care to patients of all ages. They are spending time with experienced clinicians gaining clinical competency and learning practice management."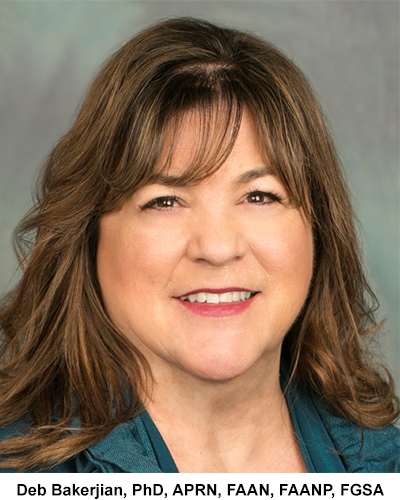 Residencies differ from graduate training
Bakerjian acknowledged critics of NP residency programs, including those at the American Association for Nurse Practitioners (AANP) who have argued that NPs already are fully prepared to practice when they graduate. But she explained that NP residencies offer valuable additional training, especially for those intending to work more autonomously in rural or otherwise under-resourced settings in need of more primary care providers.
Residents at UC Davis Health, for example, are learning how to manage a practice, handling patient care follow-up, which may include responding to lab tests and diagnostic findings, as well as integrating evidence-based patient safety and quality improvement practices.
They are building their own resource toolkits they will take with them when they leave," she said. "We are trying to equip them with best practices."
Bakerjian agrees that NP graduates can provide safe care in an environment that is organized with good systems in place, but she and other NP nurse leaders argue that it can take months or even a few years for some NPs to have the competence and confidence to practice autonomously.
"It does not happen overnight for NPs on their own, just like it doesn't happen overnight for MD grads," she said.
Specialized training attracts residents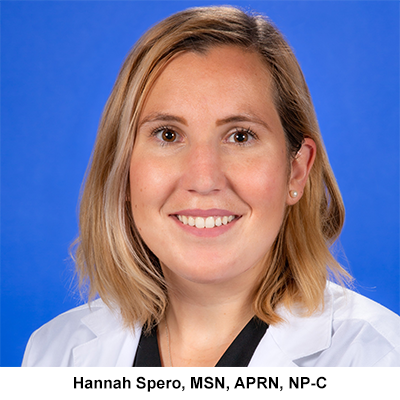 Hannah Spero, MSN, APRN, NP-C, chose to apply for the residency program at UC Davis Health both for the specialized training and the additional experience she felt she needed to best prepare for a career as an Adult Geriatric NP.
She said the residency's areas of focus – wound care, pain management and opioid addiction medication treatment, for example, are not topics generally covered comprehensively in regular nursing or NP education programs.
As someone who specializes in care for older adults, she said, in-depth knowledge about pressure ulcers or diabetes-related lesions is essential. And given the opioid epidemic, training in use of treatments for opioid use disorders and chronic pain management, is highly useful. She and other residents spend time training with providers at substance use treatment clinics.
Spero also felt that a residency would allow her to enter a supportive environment where she could grow professionally and gain confidence in her skills and clinical intuition.
Spero acknowledged that NP graduates who choose residencies take a financial hit because they don't make anywhere near the salaries they would as full-time clinical staff.
"The work you do is still highly valued," she said. "It's an exchange for being taken on and being provided all this extra training and support – an NP resident comes out the other side with greater experience and knowledge, better prepared to get an NP job than they were as a new graduate. That's the tradeoff you make."
Residency programs are also increasingly attractive for hospitals and health systems, Bamrick said, enhancing their ability to attract and retain NPs to practice in primary care and specialty departments.
NP residencies long established within VA Medical Care System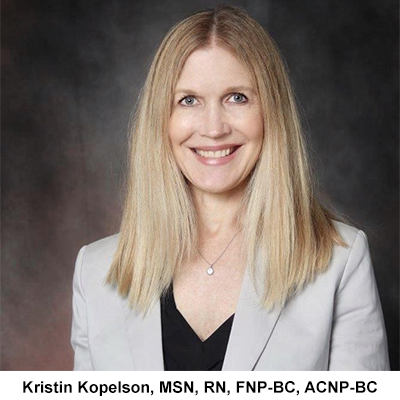 Kristin Kopelson, MSN, RN, FNP-BC, ACNP-BC, directs the Nurse Practitioner Residency Program for the Greater Los Angeles VA Health Care System. NPs have long been a robust part of the Veterans Health Administration workforce, and the VA residency programs are well established.
In California alone, the VA has NP residency programs at VA Medical Centers in Sacramento, San Francisco and Los Angeles. The 12-month VA residencies available are either in primary care or mental health.
Kopelson said NPs are drawn to the VA residency programs for a lot of reasons. Many come from military families or are committed to the VA mission to care for veterans, many of whom are vulnerable. The LA Medical Center, for example, treats a significant number of veterans experiencing homelessness. She added that because newly licensed NPs may find it harder to land positions in VA medical centers after graduation, a residency can serve as an important steppingstone.
Perhaps most important, she said, is that NP residencies can provide a very supportive environment in which NPs develop additional skills, including clinical leadership, quality improvement and population health management, as part of an interprofessional health care team that includes mental health providers and social workers.
"Practicing in a homeless or vulnerable population is potentially draining, and you don't always have success," Kopelson said. "Our teamwork is really important because you get to lean on others and learn from others. We focus on how to work without burning out."
Kopelson agrees with the AANP that residencies are neither necessary for every NP nor appropriate but argues that residencies are an excellent option for those who want additional expertise to practice in a complex environment after graduating.
"A lot of NPs enter a sink or swim environment – 'Here are 20 patients, go to it,'" she said. "That would be insane for anybody. Any NP will say the first-year transition is a little rough; most say it would be really nice to have a residency."
Kopelson likens the development of an NPs skills to that of a new driver experiencing new challenges on the road.
"You have to do the slow thinking before the fast thinking," she said. "NPs coming out of school are really well trained to take on any condition, but they haven't seen 100 percent of conditions yet. It's OK to do some slow thinking, to look it up and spend some time to make sure you don't make errors in your decisions."
Both Bakerjian and Bamrick predict that NP residency programs will be increasingly popular and relevant in coming years.
Bakerjian chairs the board for HealthImpact, a statewide nursing forum run by President and CEO Garrett Chan, PhD, APRN. HealthImpact is supporting implementation of AB 890, the bill that allows California NPs to practice independently after completing 4,600 hours in an organized health system or under the supervision of a physician. As AB 890 regulations are operationalized, she said she hopes to make the case that residency hours should be counted toward the bill's 4,600-hour transition to practice requirement.
For her part, Bamrick said the impact that COVID-19 has had in limiting clinical rotations and face-to-face patient interaction for NP students will likely make residencies more attractive to NP graduates who desire additional in-person experience as the pandemic gets under control.
More than anything, she said, "the students are saying, 'We want this. We deserve this.' There are more candidates seeking residency spots than there are available spots. Everyone graduates with a great academic education, but it's the hands-on continuity of care piece we think that residencies and fellowships can offer."