Care, Service, Passion, Celebrate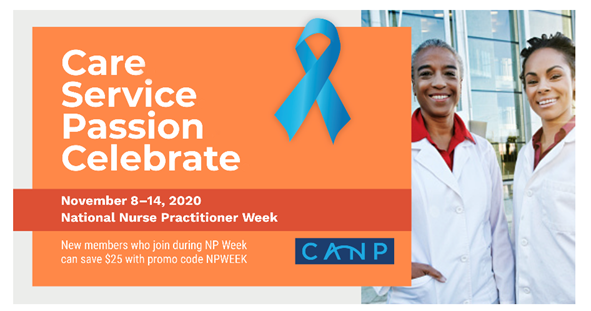 November 8-14, 2020
Each year, the second week in November is declared National Nurse Practitioner Week.
This time is a great opportunity to recognize the extraordinary contributions of NPs, promote awareness of the important role NPs play in the health care delivery system, and explain the many benefits of belonging to the California Association for Nurse Practitioners (CANP).
This year brought unique challenges, as the COVID-19 pandemic changed the health care landscape, and AB 890, the bill by Assemblymember Jim Wood (D-Santa Rosa) that would allow NPs to practice without physician supervision, moved through the legislative process.
There has never been a better time to celebrate the NP community. We want to hear from you! Use this online form to tell us about the work you – or your colleagues – are doing. We will showcase this information to show how in rural to urban settings and everywhere in between, NPs work tirelessly to create a healthier California for diverse patient populations.
Contact your local CANP chapter leaders for more details on how to build on the spirit of NP Week in a way that truly impacts the future of the NP profession, and use CANP's online NP Week Toolkit for tips on how to utilize social media and sample posts to help get the word out!
CANP is offering $25 off membership to NEW members who join during NP Week. Use discount code NPWEEK and spread the word among your NP colleagues as one more way to promote both the NP profession and the only organization dedicated exclusively to advocating nurse practitioners in California.