NP Week
Commemorate, Promote, Celebrate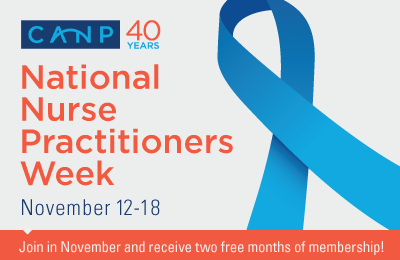 Each year, one week in November is declared National Nurse Practitioner Week. The occasion is not only a great opportunity to recognize the many contributions of nurse practitioners, but also to promote awareness of NPs and the California Association for Nurse Practitioners.
In 2017, NP Week will take place November 12-18.
Once again this year, CANP is promoting a Blue Ribbon Campaign for NP Week, encouraging NPs to wear blue ribbons throughout the week to call attention to advance practice nurses and the role they play in delivering quality health care. Inspired by similar efforts conducted by individual chapters in the past, the campaign has proven to be wildly popular since adopted by CANP in 2011.
In addition CANP is offering two free months of membership to NEW members who join during the month of November. Spread the word among your NP colleagues as one more way to promote both the NP profession and the only organization solely dedicated to advancing the cause of nurse practitioners in California.
CANP's NP Week Toolkit includes a host of other resources for promoting NP awareness. Use the links below to download resources for NP Week 2017.

NP Week is an ideal opportunity to promote NP awareness through district office visits with your local State Assemblymembers and Senators. Working now to develop a relationship with your elected officials will be critical when it comes time to ask for their support on issues that are vital to the nurse practitioner profession. Contact your local CANP chapter leaders for more details
So get ready to commemorate, promote and celebrate both your nurse practitioner colleagues and yourself as NP Week 2017 draws near.