ACT NOW! Tell Your Senator to Support AB 890.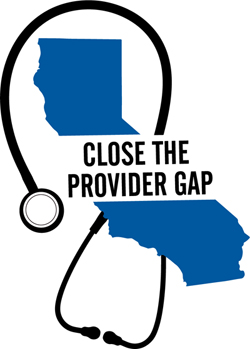 AB 890 by Assembly Member Jim Wood (D-Santa Rosa), which would allow NPs to work without physician supervision, will be heard by the Senate Business & Professions Committee on Saturday, August 8.

We need your help! Visit the CANP Action Center today and contact your state senator to urge support for AB 890.

The Close the Provider Gap coalition, led by the California Association for Nurse Practitioners, remains committed to full-practice authority for California nurse practitioners and to keeping all stakeholders updated with new information and timelines as they become available. Visit the coalition website for a host of information and be sure to follow the coalition on Facebook and Twitter.
Background
Authored by Assemblymember Jim Wood, Chair of the Assembly Committee on Health, AB 890 has garnered significant opposition from organized medicine. On May 16, 2019, the Assembly Committee on Appropriations designated AB 890 as a two-year bill, delaying its progress, but maintaining its eligibility to be taken up in the second year of the current two-year legislative session. The measure had previously passed out of the Assembly Committee on Business and Professions by a vote of 16-0 on April 9, 2019.
Following the action by the Appropriations Committee, CANP leaders immediately engaged in analyzing the outcome, and have continued to procure additional support in preparation for the bill's reconsideration in 2020.
On January 23, the Appropriations Committee approved AB 890, sending it forward for a vote by the full Assembly. The Assembly then passed the measure on January 27 by an overwhelming, bipartisan vote (61-1).
The bill will be heard by the Senate Business & Professions Committee on Saturday, August 8.