Support Assembly Bill 890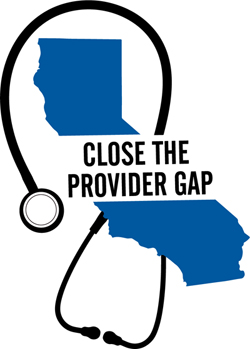 CANP is part of a coalition of organizations called Close the Provider Gap, which supports Assembly Bill 890. AB 890 would allow California NPs to utilize the extent of their education and training to provide high-quality care to patients without the current physician supervision requirement. CANP and Close the Provider Gap will be advocating for the passage of AB 890 through 2019 and when the Legislature returns in January 2020.
As a CANP supporter, there are a number of things that you can do to help us pass AB 890. In particular, grassroots outreach to state legislators is critical. These are the highest priority actions that you can take to show your support for California NPs and AB 890:
Face-to-Face Contact: Schedule a meeting with your Assemblymember and Senator
Get the Word Out: Support AB 890 on social media
Send a Letter: Email your Assemblymember and Senator to request their support for AB 890
Background
Authored by Assemblymember Jim Wood, Chair of the Assembly Committee on Health, AB 890 has garnered significant opposition from organized medicine. On May 16, the Assembly Committee on Appropriations designated AB 890 as a two-year bill, delaying its progress in 2019, but maintaining its eligibility to be taken up in the second-year of the current two-year legislative session. The measure had previously passed out of the Assembly Committee on Business and Professions by a vote of 16-0 on April 9.
Following the action by the Appropriations Committee, CANP leaders immediately engaged in analyzing the outcome, and have continued to work behind the scenes on procuring additional support in preparation for its reconsideration by the Appropriations Committee in 2020.