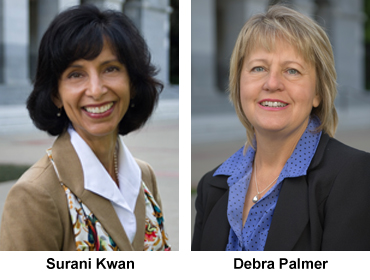 MONTEREY, Calif. – Acknowledged leaders both as health care providers and advocates for their profession, Surani Kwan and Debra Palmer were honored by their peers with awards presented during the California Association for Nurse Practitioners 36th Annual Educational Conference, held March 21-24 in Monterey. Kwan received CANP's 2013 Nurse Practitioner of Distinction award, while Palmer was named the recipient of the Bridging Health Care Needs honor.
Kwan is entering her second year as Executive Director of Operations for the North Division of Sutter Pacific Medical Foundation, following an eight-year stint as the Director of Patient Care at Sutter Medical Center of Santa Rosa. She concurrently performs as a Family Nurse Practitioner at the Russian River Health Center, a local community clinic for the medically underserved, where she has practiced since 2000.
A 13-year member of CANP, Kwan currently serves on the board of directors as Immediate Past President, following a two-year term as the organization's President. She previously served as CANP's Health Practice Chair, and as a member of the Government Relations Committee. She has been a leading voice in the pursuit of legislative and regulatory reform to remove practice barriers for nurse practitioners, and was an influential figure in last year's effort to remove the six-month delay for newly-licensed nurse practitioners to provide medication to their patients, accomplished through the passage and signing of Senate Bill 1524 (Chapter 796, Statutes of 2012).
Palmer has worked in a variety of settings throughout her career in health care, including community health, education, and her specialty area of orthopedics. A nurse practitioner at Kaiser Permanente in San Diego since 1987, she has found the time to complete her Doctor of Nursing Practice degree while also creating a program connecting volunteer doctors, nurse practitioners, physician assistants, and nurses in San Diego with volunteer health care missions in Guatemala. Entering her second year as an Adjunct Professor at Azusa Pacific University, she has further contributed as an educator by spearheading the development of a DNP orthopedic residency program – the first of its kind.
During two years as President of the San Diego Central Chapter, she expanded the scope of the chapter's educational offerings, and organized the chapter's first educational symposium. By the end of her tenure, chapter membership had grown more than 20 percent. Since 2012, she has served on the state board of directors as Chair of the Health Policy Committee and has been instrumental in working at the state level to expand the role of NPs in the health care delivery system.
"Many talk about changes they would like to see in our profession, but Dr. Palmer is one of the few to actually turn those ideas into reality," wrote Michelle McCurdy, who succeeded Palmer as President of the San Diego Central Chapter. "Moreover, she is astonishingly humble – nearly dismissive – of her myriad accomplishments and shows no sign of stopping – or even, for that matter, slowing down."
The Nurse Practitioner of Distinction Award specifically recognizes a CANP member who demonstrates excellence in furthering the nurse practitioner role either in legislative efforts or clinical application. The intention is to confer the highest recognition for an NP – to be recognized for excellence by their colleagues. Other 2013 nominees were Kathy Ware, Kristin Kopelson, Nicholas Perrino, Mary Huntsinger, Barbara Lome, and Donna Emanuele.
The Bridging Health Care Needs Award recognizes nurse practitioners who are active as a catalyst for positive change in the health care system and who demonstrate the value of the care nurse practitioners provide to their patients. Other 2013 nominees were Mary Huntsinger and Kathy Wood.
CANP is the voice for more than 17,000 nurse practitioners in the Golden State, uniting nurse practitioners in an exchange of ideas, practice advice and development of professional assets while working to advance the nurse practitioner profession statewide.