CANP Announces Endorsement of Sen. Ed Hernandez for Lieutenant Governor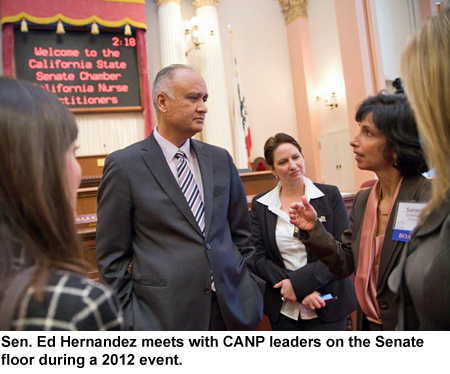 The California Association for Nurse Practitioners has announced its official endorsement of Sen. Ed Hernandez in the 2018 race for Lieutenant Governor. The announcement marks the first time in its history that CANP has endorsed a candidate for statewide office.
"The California Association for Nurse Practitioners is proud to strongly endorse Senator Dr. Ed Hernandez for Lieutenant Governor of California," said CANP President Theresa Ullrich in a statement released by the Hernandez campaign. "He's been a longtime partner and ally with our members in his efforts to expand access and coverage of health care for Californians. We are fully confident that Senator Dr. Ed Hernandez will be an extraordinary Lieutenant Governor who will continue his tradition of pushing for broader health care coverage as a statewide leader. He has our full support."
Hernandez, a licensed optometrist from West Covina, is currently serving his second term in the State Senate following two terms in the State Assembly. He is currently the Chair of the Senate Committee on Health.
Motivated in part by his experience as a health care provider in predominantly low-income communities, he has devoted much of his legislative focus to increasing access to health care. Those efforts have included his authoring of Senate Bill 491 in 2013, and co-authoring (with Assemblymember Susan Eggman) of Senate Bill 323 in 2015, which proposed granting full practice authority to California nurse practitioners. Both bills passed out of the Senate before being held in the Assembly.
He was also the author of SB 1524, which was signed into law in 2012. That bill eliminated the requirement that NPs have six months of physician-supervised furnishing experience prior to receiving a furnishing number from the Board of Registered Nursing.
CANP's decision to endorse follows the recent development of an official endorsement policy for the organization, including the adoption of a questionnaire to be completed by candidates seeking an endorsement. The endorsement policy is the latest step in CANP's growth as one of California's leading voices in the area of health care policy.