Acclaimed Health Policy Expert Micah Weinberg Named NP Advocate of the Year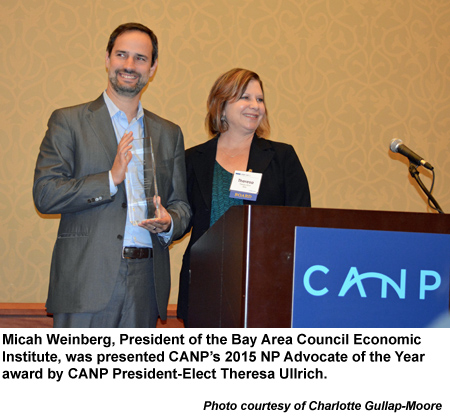 Micah Weinberg, President of the Bay Area Council Economic Institute and a nationally-renowned health policy expert, has been honored by the California Association for Nurse Practitioners as the 2015 Nurse Practitioner Advocate of the Year. The announcement was made during CANP's annual Lobby Day event held May 24 in Sacramento.
Weinberg first became familiar to CANP members during the 2014 Lobby Day program when he discussed a then-released Council study which concluded that granting full practice authority to nurse practitioners is "one of the most effective steps" California can take to increase the supply of primary care providers while maintaining high quality health care and driving down costs. He recently served as the keynote speaker during CANP's 39th Annual Educational Conference this past March, where he told attendees that "Rooms full of studies show that full practice authority for NPs provides better access, better or same quality of care and the same or lower costs. If legislators and their staffs are pretending they don't know this, then they really are pretending. That means you have to keep it up with the bare-knuckled politics."
"With major policy reforms such as MACRA coming online, health care providers are increasingly being held financially accountable for quality and value. Nurse practitioners – as so many studies have shown – are the key to high quality, high value care," said Weinberg in accepting the award. "Things like full practice authority will be a natural result of the changing economics of health in the United States."
Dr. Weinberg previously served as Senior Policy Advisor to the Bay Area Council and Senior Research Fellow at the Bay Area Council Economic Institute, where he worked to drive health system transformation. His work focused on maximizing health through radically reworking how we pay for, deliver, and think about health care. He worked closely with business leaders and policymakers in California and nationwide to develop and implement strategies to control the growth of health care costs while expanding access and improving health outcomes.
Before joining the Council, Dr. Weinberg served as a Senior Research Fellow in the Health Policy Program at the New America Foundation where he authored the final report of the California Task Force on Affordable Care, a group of CEOs, advocates, and academic experts that developed a set of strategies to save the state $500 billion in health spending over 10 years.
Since its institution in 2002, previous recipients of the NP Advocate of the Year Award have included Assembly Speaker Toni Atkins (2015); Senator Gloria Negrete-McLeod (2011); Assemblymember Ed Hernandez (2008); Michael Loughran, Executive Vice President for Healthcare Division at NSO (2006); Assemblymember Cindy Montanez (2004); Senator Liz Figueroa (2003); and Jake Mater, Senior Manager of Government Affairs with Aventis Pharmaceuticals (2002).