Lobby Day
Together Affecting Change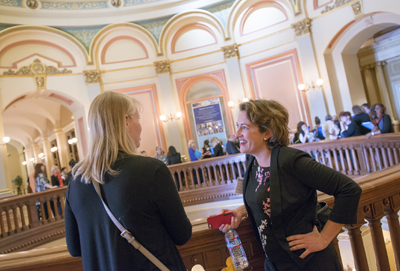 Every year CANP shows its strength at the State Capitol by bringing NPs face-to-face with legislators. Join your colleagues in Sacramento for Lobby Day to learn about the coming year's legislative issues and meet with legislators to help advance CANP's agenda. This annual event is always exciting and inspirational, leaving nurse practitioner participants empowered to continue the conversation at the local level.
CANP Lobby Day 2017 takes place May 8. Those planning to attend can book hotel reservations now at the Sheraton Grand Sacramento Hotel, located at 1230 J Street in Sacramento, for the rate of $215 per night. The group rate available until April 7, subject to availability.
Be on the lookout for additional details as they evolve. In the meantime, grassroots outreach on the part of CANP members and allies is important year-round – as we say, "Every Day is Lobby Day." Contact Grassroots Coordinator Stephanie Nied Tseu at canpgrassroots@gmail.com for assistance in the important task of continuing advocacy outreach efforts throughout the year.