Annual Educational Conference
The Don't-Miss Event of the Year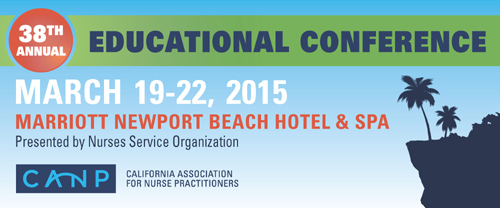 CANP returns to the Marriott Newport Beach Hotel & Spa for its 38th Annual Educational Conference, taking place March 19-22, 2015.
Online registration for the conference will open this fall. In the meantime, those planning to attend can book hotel accommodations now to take advantage of the early discount rate of $184 per night plus tax. The early registration rate is available through February 27, 2015.
The conference offers nurse practitioners (as well as physician assistants, nurse midwives, nurse anesthetists and students) an exciting opportunity to learn from some of the most influential figures in the industry. Exhibitors come from all over to showcase the latest products and services. The evening programs offer terrific opportunities to network and socialize. Don't miss the association's premier annual event. Come to earn your continuing education credits, meet nurse practitioners from across the state and get up to speed on the most important developments of the day.
Plan Now to Join Us in 2015
CANP's 37th Annual Educational Conference took place March 20-23, 2014 in Newport Beach. More than 600 nurse practitioners and other health care professionals gathered for the event, taking advantage of ample opportunities to earn Continuing Education credits, learn the latest about the organization's legislative advocacy efforts, network with peers and soak in the surrounding splendor of one of California's iconic coastal communities.
Among the highlights was the keynote presentation by Leah Morris, who is both a practicing NP and a Senior Clinical Consultant with Covered California, the state's health benefit exchange established in conjunction with the Affordable Care Act. Morris spoke of California's status as a leader in ACA implementation, how enrollment in the exchange has exceeded expectations, and the role the exchange plays in offering consumers comprehensive information on which to base their health insurance choices.
The event also featured the announcement of the annual CANP Awards. Elaine Go of Laguna Niguel received the Nurse Practitioner of Distinction Award, while Camille Fitzpatrick of Mission Viejo was presented the Bridging Health Care Needs Award.
In addition to education and networking opportunities, attendees enjoyed the vendor expo, in which exhibitors from around the world showcased the latest in health care products and services. Attendees also acknowledged the importance of the Association's legislative advocacy efforts by contributing a total of $15,000 to the CANP Political Action Committee during the conference.
The conference was made possible through the generous contributions of numerous sponsors, including the presenting sponsor, Nurses Service Organization.
Following the success of the 2014 gathering, CANP secured the Marriott Newport Beach Hotel & Spa for the next two annual conferences. The 39th rendition will take place March 17-20, 2016.