Annual Educational Conference
The Don't-Miss Event of the Year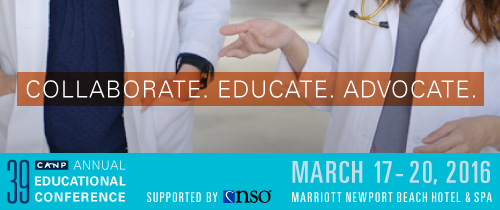 CANP returns to the Marriott Newport Beach Hotel & Spa for its 39th Annual Educational Conference, taking place March 17-20, 2016.
Early registration is now open. Take advantage of the lowest possible conference rate while also saving your spot at the head of the line to pre-select your conference educational workshops. The final program, including times and dates, will be available in October.
In addition, a host of sponsor and exhibitor opportunities are available for the 2016 event. For more information, contact Business Development Director Kim Rothschild via email at kim@canpweb.org, or by calling (916) 441-1361, ext. 2.
Attendee Registration Sponsor / Exhibitor Registration
The conference offers nurse practitioners (as well as physician assistants, nurse midwives, nurse anesthetists and students) an exciting opportunity to learn from some of the most influential figures in the industry. Exhibitors come from across the nation to showcase the latest products and services. The evening programs offer terrific opportunities to network and socialize. Come to earn your continuing education credits, meet nurse practitioners from across the state and get up to speed on the most important developments of the day.