Annual Educational Conference
The Don't-Miss Event of the Year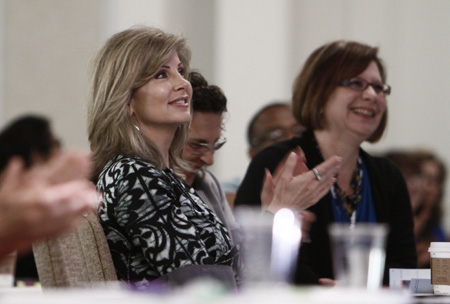 The CANP Annual Educational Conference offers nurse practitioners (as well as physician assistants, nurse midwives, nurse anesthetists and students) an exciting opportunity to learn from some of the most influential figures in the industry. Exhibitors come from all over to showcase the latest products and services. The evening programs offer terrific opportunities to network and socialize. Don't miss the association's premier annual event. Come to earn your continuing education credits, meet nurse practitioners from across the state and get up to speed on the most important developments of the day.
CANP's 38th Annual Educational Conference took place March 19-22, 2015 at the Marriott Newport Beach Hotel & Spa. More than 600 nurse practitioners and other health care professionals gathered for the event, taking advantage of ample opportunities to earn continuing education credits, network with peers and soak in the surrounding splendor of one of California's iconic coastal communities.
With the 2015 introduction of Senate Bill 323 (Hernandez-Eggman), which would grant full practice authority to California NPs, an overriding theme of the conference was the need for CANP members and allies to engage in grassroots outreach to educate state legislators about what a nurse practitioner is, what the bill would accomplish, and why the bill is so vital to assure access to quality health care for millions of Californians. As CANP President Donna Emanuele told conference attendees during the opening general session, "This year presents a monumental opportunity for all of us. It's an opportunity that must be seized. It's your opportunity to be the difference."
Attendees answered the call in part by making more than $27,000 in donations to the CANP Political Action Committee during the four-day run of the conference.
The conference also featured the announcement of the annual CANP Awards. Kristin Kopelson of Los Angeles received the Nurse Practitioner of Distinction Award, while Wendy Smith of Santa Rosa was presented the Bridging Health Care Needs Award.
The conference was made possible through the generous contributions of numerous sponsors, including the presenting sponsor, Nurses Service Organization.
The conference will return to the Marriott Newport Beach for its 39th rendition, taking place March 17-20, 2016. Save the dates and make plans to join us. Meanwhile, a host of sponsor and exhibitor opportunities are already available for the 2016 event. For more information, contact Business Development Director Kim Rothschild via email at kim@canpweb.org, or by calling (916) 441-1361, ext. 2.