Annual Educational Conference
Get Set to Join Us March 20-23, 2014 in Newport Beach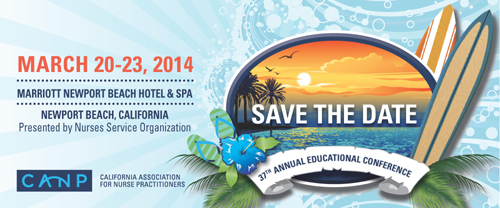 Make plans now to attend the 37th Annual Educational Conference, taking place March 20-23, 2014 at the Marriot Newport Beach Hotel & Spa in Newport Beach. CANP's program planners are in the midst of plotting another compelling agenda of educational sessions, featured speakers and social events, all taking place in one of California's iconic coastal communities.
The CANP Annual Educational Conference offers nurse practitioners (as well as physician assistants, nurse midwives, nurse anesthetists and students) an exciting opportunity to learn from some of the most influential figures in the industry. Exhibitors come from all over to showcase the latest products and services. The evening programs offer terrific opportunities to network and socialize. Don't miss the association's premier annual event. Come to earn your continuing education credits, meet nurse practitioners from across the state and get up to speed on the most important developments of the day.
Online registration for attendees opens soon. In the meantime, sponsors and exhibitors can register today via this online form and get a head start on the opportunity to showcase their products and services to health care professionals from across California. See the Conference Prospectus to learn about the multitude of sponsor and exhibitor opportunities on tap for 2014. As an alternative to the online registration form, the Prospectus also includes an interactive PDF that you can use to register.
The CANP Annual Educational Conference is presented by our partners at Nurses Service Organization.
Thank You to Our Sponsors