Victoria Jackson, MS, NP-C, PA-C
Focus On… is a Q&A style interview that highlights a member, a conversation with an authoritative expert, spotlights an innovative program, or profiles a trend. If you have a suggestion for a person or topic we should consider as a future Focus On… subject, please email CANP at admin@canpweb.org.
---
Victoria Jackson is an assistant clinical professor for the Master of Science — Family Nurse Practitioner and Master of Health Services — Physician Assistant Studies degree programs at the Betty Irene Moore School of Nursing at UC Davis. In a unique clinician educator role, Jackson divides her time between providing patient care as a nurse practitioner in the Department of Geriatrics at the UC Davis Health Midtown Clinic.
---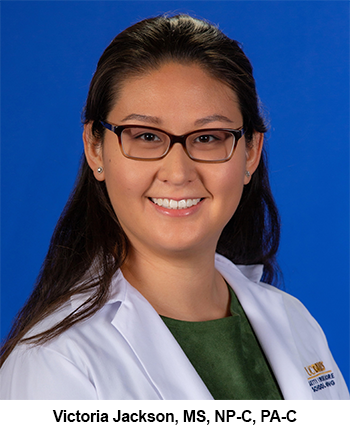 Connections:
How did you get interested in geriatrics?
Jackson:
When I began the family Nurse Practitioner Program at UC Davis, I was open to anything and decided to focus on cardiology, where I often served as a liaison between the physician and the patient. I found that cardiologists are very focused on interventions. When we met with patients, the physician would often say, let's do an ablation or suggest some other procedure. Afterward, the patient would sometimes say "I don't want a procedure. I want to maintain my quality of life. I worry about the risks of a procedure. This is not in alignment with my goals." What matters to older adults is often different from what we think is important.
Connections:
Tell us about your current role at UC Davis.
Jackson:
In my new role at the Healthy Aging Clinic, I can be the voice for the older patients and help the whole health care team understand what matters to the patients and help coordinate the care. Eighty percent of my time is committed to seeing patients for dementia care and mobility problems. I am also an assistant clinical professor at the Betty Irene Moore School of Nursing.
Connections:
What are some of the inherent challenges these patients face when it comes to health care generally?
Jackson:
Older adults have a lot of specialists. They may see a cardiologist for their heart problems, an endocrinologist for their diabetes and a dermatologist for skin cancer. They also may have a lot of instructions to follow after a procedure or other hospital visit. Typically, this work falls to the patient or their family to coordinate, and discharge instructions can be very lengthy with new medications or instructions for follow-up care. Patients and families are often really overwhelmed, or they don't know where to start. The coordination with inpatient and outpatient services is burdensome for patients and caregivers. Being proactive with the care of older adults needs a lot of support in managing all the providers. Our Healthy Aging Clinic does a great job of being the hub, working with the other specialists to coordinate care.
Connections:
What is the vision for the clinic?
Jackson:
Our vision is to provide age-friendly care and support and support for patients and caregivers. We want to keep them safe and independent with their families in their living situations, whether at home or in assisted living. We want to address what matters to them. There are four areas of focus: mobility, medication, mood and mentation. We are heavily focused on what matters. If we understand that, we're able to help with all the other things in a more meaningful way for families.
Connections:
When did the clinic launch and how is it staffed?
Jackson:
We did a soft launch of the clinic in January with a gerontologist and four other clinician educators, three NPs and one RN. Broadly, we are trying to create an integrated approach where patients and families can experience a seamless continuum of care and easily navigate the health care system.
We have an RN who is our patient navigator with experience in palliative care and home health and can provide information for support groups and palliative care services. Her goal is to beef up community-based relationships. We have neurologists from the Alzheimer's Disease Center who see patients for dementia workups. Our neuropsychologist does 4-hour assessments. We have a registered dietitian, and we are getting a clinical pharmacist. This month we will begin to offer geriatric psychiatry, and we hope to have a physical therapist as part of our mobility clinic, as well.
We are available to families and patients 8 am to 5 pm, Monday through Friday. We do telephone outreach to patients and caregivers every four months to see if everything is stable. If there are other issues like caregiver strain or behavior problems that need more attention, we follow up every one or two weeks. We are not waiting for the patients to call us.
Connections:
Where do your referrals come from and what kinds of services do you provide?
Jackson:
We get referrals from primary care clinics and some specialty clinics, too. We have explained to them what our program is, what kinds of resources we offer. We work with Population Health on chart reviews, developing interventions and identifying the teams to put the interventions in action.
Our key areas of focus are dementia and mobility. We coordinate with colleagues in the emergency department and hospital. For patients who come in for falls, we develop pathways, so they come to our mobility clinic for further evaluation. Primary care providers also send us referrals for patients who keep falling and can't figure out why. We do a full neuromuscular evaluation looking at their medications, we assess gait, balance and strength. We also do a vision screening. We check for hypotension. We look at what might be causing the falls and refer them to physical therapy or other services. During these visits we incorporate all the other geriatric pieces, talk about advanced care planning and do cognitive assessments to possibly catch something at an early stage.
We get a lot of referrals from neurologists, too. They have done the imaging and maybe have started the patient on medications or referred them for physical therapy. But the neurologist sees them once a year. We are there to help with behavioral issues – hallucinations, agitation or aggression. We provide counseling and make recommendations to the referring provider.
We spend 90 minutes with each new dementia patient. We do a comprehensive evaluation with the patient and their family caregiver. We cover social supports and other resources available to both caregivers and patients, as well as any patients' needs beyond dementia like depression. We also assess the caregivers for signs of strain; sometimes they have depleted their resources balancing the needs of their loved one, their children. We assess what areas they need support in and offer referrals to community-based organizations that we partner with.
Connections:
What is the clinic's role in provider education?
Jackson:
We are working to fill gaps in education regarding clinical care for geriatric patients. We have preceptorships teaching our NP students. During our appointments we onboard the student, teach them about what constitutes a dementia appointment and what kinds of things we are looking for. We debrief about the situation, what went well and what didn't go well. We are training them to be geriatric-focused because this is an important piece in any primary or specialty clinic. We want them to understand what is important to assess and what we want to learn from patients and families to help them achieve their goals.
We are also trying to build a geriatric fellowship. We are also training MD residents. And we have a cohort of 10 geriatric resource nurses who completed a training program called Nurses Improving Care for Health System Elders – a 21-122k course with 15 modules on geriatric topics.
Connections:
What is the overall trend for clinics specializing in aging patient care?
Jackson:
Our aging population is coming of an age where they need support, and they will make up the majority of our population. We want this population to live long and to be healthier to reduce the health care burden. UC Davis has always had a great geriatric care, and we are using that as a foundation to take it to the next level.