By Dorsey Griffith
Contributing Writer
With FDA approval of COVID-19 boosters, nurse practitioners now find themselves helping patients understand the importance of boosting their immunity with an additional vaccine dose, while continuing to manage those who refuse to get a vaccination whatsoever.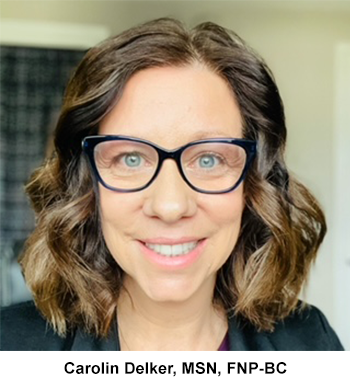 Essential to either scenario, say California NPs, is keeping abreast of the constantly changing FDA approvals and CDC recommendations, as well as responding to each patient's questions with fact-based information and guidance.
Carolin Delker, MSN, FNP-BC, is the Service-Line Director for Sutter Walk-In Care. She oversees 29 clinics from Santa Rosa in Sonoma County to Aptos in Santa Cruz County and the Sacramento Valley. Walk-in care providers see patients with common complaints like coughs, colds, rashes, UTIs and other acute conditions.
Some come in just looking for information.
"That's the moment where we get a captive audience to educate them on what the vaccine is – and what it isn't – talk about safety, and who, and what and when."
Typically, patients are asking if the booster is safe, why it's necessary if they're fully vaccinated, if it will make them sick, what it means to have waning immunity, and whether they need it if they've already had COVID, she said. In these cases, providers spend time explaining the benefits of the booster, likening it to the annual flu shot developed to fight the most prevalent variants of the virus.
"There is still a lot of anxiety around the vaccine," she said. "They are asking us, 'Do they really know what they are doing?' 'Are they testing this on us?' Is the data real?'"
For those who have already had the virus, her providers tell patients, "We are just talking about preparing your immune system so that if you ever come in contact with COVID or a variant, your immune system can handle that."
Delker said the walk-in clinics have seen a steady stream of patients asking for boosters, but fewer than when vaccines first became available. Some do not qualify for a booster yet; many patients wonder if they can get boosted with a dose of a vaccine that is different from the vaccine they received originally.
The FDA has approved the Moderna, Pfizer and Johnson & Johnson (J&J) vaccine boosters, and research has demonstrated that having a booster that is different from the original vaccine dose is safe and effective. Boosters are currently recommended for everyone 18 and older. For those who received the Pfizer or Modern vaccine, the booster is recommended at least six months after completion of the primary COVID vaccination series. For those who received the Johnson & Johnson vaccine, boosters are recommended two months after receiving their primary vaccination.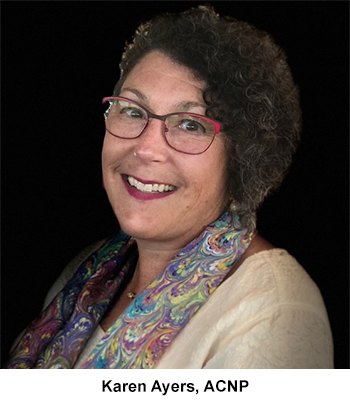 In Humboldt County, where the vaccination rate is 58% (nearly 5% lower than the statewide average), and the COVID positivity rate is nearly 12%, hospital ICUs have been full of COVID patients. Karen Ayers, ACNP, is working patient-by-patient to promote boosters for those already vaccinated and to encourage unvaccinated patients to get their first shot.
By and large, she said, her patients at Priority Care Center are open to vaccination and boosters, including some who are not technically eligible yet. But she's heard plenty of questions and concerns, too.
One young woman who has a blood clotting disorder and had a J&J vaccine, now worries about getting the booster because of reported cases of blood clotting problems later associated with the J&J shot. She asked Ayers the question before the CDC announced that it was safe to mix and match vaccines, so Ayres did some research.
"It turned out that the type of blood clotting disorder she has does not preclude her from going ahead with the J&J and was not associated with the J&J problems," she said. "I was able to reassure her that she could take the J&J booster dose."
More often, Ayers said, the most challenging patients are those who do not want to get vaccinated at all, like the man who did not get the vaccine for religious reasons and got COVID, along with his entire family. Under pressure at work to get immunized, she said he was wrestling with his conscience about taking the vaccine.
He asked Ayers if she would order an antibody test to determine whether he has natural immunity to COVID so that he could share that information with his employer.
"I want to learn everything to inform my decision because it could result in the loss of my job," he told her. "I told him that I cannot tell him what level of natural immunity he has by testing for antibodies. It's not very informative, and testing positive for antibodies doesn't mean you can't get COVID again or get a different variant. I said, 'I understand your reservations and beliefs and that it is a difficult decision, and I recommend vaccination for the safety and wellbeing of you, your family and loved ones.'"
Delker said she also relies on evidence-based information in cases like these. First, she reads up on the latest research, and then she educates her patients on the vaccine's safety and its role in protecting them and everyone around them.
"Having the solid foundation of what the vaccine is and displaying that confidence to patients is what they are looking for," she said. "By and large, the majority of patients are interested in learning about the vaccine, getting the first two doses and likely the booster."