Kate Papadopoulos, MSN, NP, COHN-S
Focus On… is a Q&A style interview that highlights a member, a conversation with an authoritative expert, spotlights an innovative program, or profiles a trend. If you have a suggestion for a person or topic we should consider as a future Focus On… subject, please email CANP at admin@canpweb.org.
---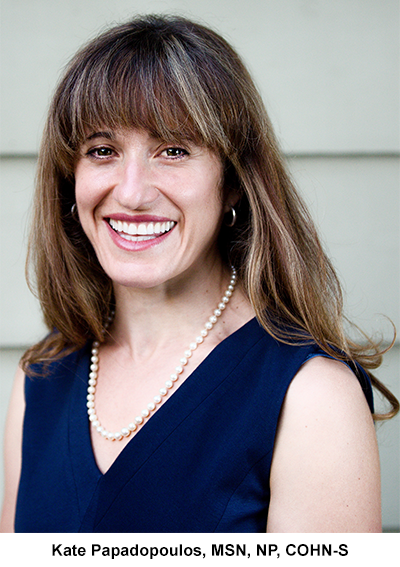 Kate Papadopoulos is an Occupational Nurse Practitioner with Sutter Health in Santa Rosa. Her primary focus is diagnosing and treating health care workers with work-related injuries and collaborating with hospitals and outpatient clinics to conduct worker vaccine and respiratory protection programs. Outside of her job, Kate volunteers and serves on the board of directors for a Northern California occupational nursing group, California El Camino Real Association of Occupational Health Nurses (CECRAOHN), where she enjoys collaborating with colleagues from diverse backgrounds to promote occupational health initiatives. In her spare time, Kate enjoys hiking and running in Sonoma County parks and beaches.
---
Connections:
What inspired you to become an occupational health NP?
Kate:
As an undergrad I was a cultural anthropology major and studied in Mexico, but I later realized that academia was not for me, and that I wanted to do something more hands-on and help people. A physician mentor helped me decide to go into nursing. With my undergraduate background and living on a vineyard at the time, I had an interest in migrant farmworkers and their unique health struggles and vulnerabilities. I thought about potential hazards to field workers like pesticides, smoke, even the excess sun and heat exposure that can be deadly in California.
At UCSF, I had to select a specialty before I got my advanced degree. I did a few informational interviews. I chose the field because of my interest in public health nursing and worker-specific health, with the knowledge that many adults are working 40+ hours per week. Some of my nursing professors at UCSF were studying health issues in occupations such as nail salon workers, cab drivers and firefighters. I found this to be fascinating. I didn't know at the time exactly what setting I'd end up in, but it turned out to be a good fit for me.
Connections:
Tell us about your training.
Kate:
With my BA in cultural anthropology, I had to spend an additional year completing nursing prerequisites at Santa Rosa Junior College. I then joined the Master's Entry Program in Nursing (MEPN) at UCSF. After earning my RN, I took a "step-out" year to practice full time as an RN at St. Mary's Medical Center in San Francisco, which also helped me gain valuable nursing experience and pay off student loans. While working as a bedside nurse, I completed the 2-year master's program, which prepared me to be an Adult NP and an Occupational and Environmental Health Nurse. I then took the COHN exam and got my board certification.
Connections:
I imagine that much of your work involves workers compensation claims. What kinds of patients do you see as an occupational NP at Sutter Health?
Kate:
As you can imagine, a health system employs a wide variety of people, from janitors and office workers, to lab workers and nurses. Many of them have very physical jobs. They come in with lower-back and shoulder injuries, exposures to blood-borne pathogens, either because of a needle poke or splash in the eyes with blood-containing fluids, as well as repetitive strain injuries. As an occupational NP my work is helping care for those employees and working with hospital leaders and safety professionals to mitigate risk of on-the-job injuries. In responding to a work-related case, I take a careful history to determine the likely cause of the injury, which may be work-related but also might be caused by multiple factors, or by home hobbies or exposures. Someone with lower back pain after helping transfer a heavy patient has a more obvious work-related injury than someone who has wrist pain who types at work but also is an avid gamer. So there is some causation analysis involved.
I should point out, however, that in California, it's a low threshold. If an underlying condition is exacerbated by work, the claim will likely be accepted. I work with other NPs, physicians and workers compensation adjusters to manage these cases. In occupational medicine and nursing we see the workplace as a place of therapeutic rehabilitation. I work with managers, safety professionals, and worker's compensation coordinators to help keep an injured worker at work in a safe capacity, if possible. This keeps them engaged in the workplace as they heal and progress in their activities over time.
Connections:
Do you come across people who try to use an injury to take get paid time off work?
Kate:
I would rephrase that by saying a small percentage of injured workers may not agree with our philosophy of the workplace as a therapeutic setting for rehabilitation. It's not common, but yes, some people want to be off work for a while. We aim to guide them back to work in a gradual, safe way by working with managers and workers compensation coordinators to tailor working conditions to accommodate them so they can perform light or restricted activity. We hope to avoid those with long-term injuries getting distanced from the workplace for long periods, which can lead to depression and make it even more difficult to return. If they can't push gurneys, they can help with chart audits or phone work, for example. They can do activities that are less physical while they are improving. It's often a win-win.
Connections:
Your job involves a good deal of paperwork?
Kate:
Day to day there are a lot of nuts and bolts to deal with. Workers comp is a paperwork-laden system. We have to stay up to date on California workers' compensation laws, OSHA regulations, and other public health regulations that are pertinent to hospital settings, such as the California Aerosol Transmissible Diseases (ATD) standard.
My daily work is a mix of things; I may complete a handful of medical screenings for newly hired workers, plan for vaccination events, and evaluate and case manage a handful of injured workers. It has been powerful to know how to help patients navigate through the workers compensation system. I advise them to read the forms and know their rights. Reminding them to make a file of all paperwork received can be helpful. At times, even referrals to specialists can be challenging as not all of them accept workers compensation, but I'll help make these connections happen. Though there is a lot of paperwork, I like the variety each day brings in this setting.
Connections:
How has your job changed with the COVID-19 pandemic?
Kate:
Occupational nurses, including myself, have taken on additional tasks during the COVID-19 pandemic. We had to ramp up fit testing for N95 respirators due to frequent supply chain changes. Workers have to be retested to make sure new models fit their face and thus offer the most protection. For workers who have had skin issues related to frequently wearing PPE, we provide skin care advice. We also handle workers' compensation claims for employees with work-related COVID-19. While these infections are not always from work exposures, it's possible that they were, and I help them with their claim reports so they can get benefits and leave time covered. Also, we are doing a lot of phone work to clear people to return to work whether they had a work or community exposure to the virus. Additionally, we helped with employee COVID-19 vaccination clinics which felt great to be involved with.
Connections:
What role to do you play in injury or illness prevention?
Kate:
If I see any trends in terms of the types or causes of injuries, I work with hospital safety and infection control experts to try to address the problem. For example, I might see issues with a certain safety device, or I might notice that employees are not getting adequate access to lift equipment that can help them avoid injury. Employee health also partners with the hospital to train workers on proper PPE use to decrease exposure to airborne and bloodborne pathogens. Working with my occupational nursing group (CECRAOHN) enables me to learn about and work on prevention and safety practices beyond health care settings in varied industries such as tech, manufacturing, agriculture, etc. Prevention is at the foundation of occupational health nursing, which is a branch of public health/community health nursing. "Prevention, prevention, prevention," one of my OEH nursing professors used to say to emphasize that point.
Primary care providers can learn from their occupational medicine/nursing colleagues the importance of getting a patient's occupational history. Does your patient, who is also a housekeeper, work with cleaning chemicals and without proper PPE? Does your patient with flu-like symptoms have a home hobby of welding, perhaps in a poorly ventilated shed? Including an occupational history may aid your diagnoses and help uncover work-related injuries and illnesses.
Connections:
Your job does not involve primary care, per se. Is this true of all OEH NPs?
Kate:
OEH NPs work in a variety of settings and may be doing injured-worker care, research, or teaching. It is true that many of us don't practice primary care, but we have the training during our NP preparation. When we are with workers, we often have opportunities to pick up on not-yet-recognized diagnoses such as hypertension or depression and encourage workers who do not regularly seek out medical care to follow up with their PCPs. While my role is not to provide primary care, I do believe that thinking about a worker's health holistically helps promote healing. This said, there are some companies with clinics onsite that do primary and injured-worker care to help better serve a busy workforce.
Connections:
What other kinds jobs are available to OEH NPs?
Kate:
The field is definitely growing. OEH NPs can choose from a variety of diverse industries. Depending on the setting, occupational health nursing not only includes injured-worker care but also vaccination campaigns, surveillance programs, respiratory and hearing protection programs, occupational health research, and much more. You will find us in employee health clinics, urgent care centers, hospitals, universities, factories and government agencies. You can learn more about the field from CECRAOHN or from the American Board for Occupational Health Nurses.