Simulation Labs Draw a Direct Connection Between Theory and Practice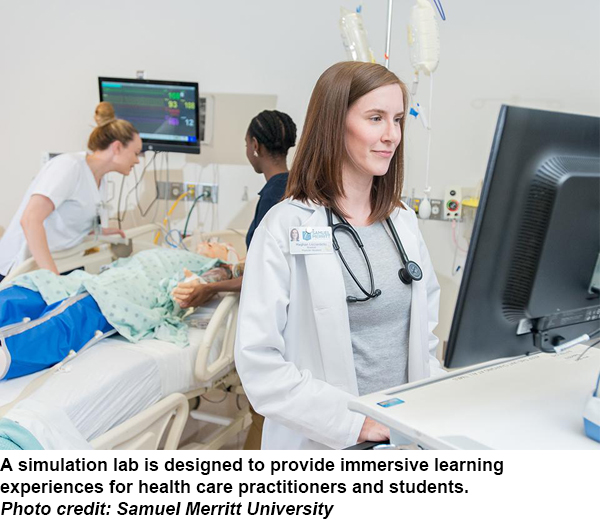 By Stephanie Jordan
Managing Editor, Connections
A number of colleges and universities across the United States and the world have adopted the use of simulation laboratories. Whereas the standard textbook and lecture style of learning presents health care concepts as they relate to patients in a two-dimensional form, simulation is able to expand how learners work with course materials. Here, learners can apply their theoretical knowledge in carefully created hands-on scenarios that mimic different clinical situations in an environment built to replicate various health care locations, such as emergency rooms, operating theaters, critical care units, labor and delivery rooms, general medical-surgical floors (wards), or pediatric intensive care units. These simulation labs augment the education and training of health care professionals to further master cognitive, technical, and behavioral skill sets through the technologically advanced crafted experiences. The scenarios range in complexity and/or skill level. Simulation labs contain a variety of specialized manikins (models), advanced electronics and audio video equipment, and use the same equipment found in hospitals to practice tasks like inserting IVs, giving injections, and performing a head to toe health assessment.
Samuel Merritt University
The Health Sciences Simulation Center (HSSC) at Samuel Merritt University (SMU), located since 2006 on the Oakland campus of SMU, is an 11,000 square foot lab designed to facilitate immersive and simulation-based learning and is one of the West's most advanced health care simulation facilities. The HSSC is comprised of four simulation suites, nine standardized patient rooms and four large multipurpose rooms configurable for a wide range of immersive activities that allows students, faculty, and working health professionals to collaborate on challenging life-like scenarios, try on different hats, practice technical skills, and gain experience in medical and surgical procedures. Learners also improve critical thinking, decision-making, teamwork, leadership, and communication skills. The HSSC is integrated into all of SMU's programs on its three California campuses (Oakland, San Mateo, and Sacramento).
On each campus the HSSC has multiple high-fidelity simulators including adult, pediatrics, infants and newborn. HSSC's array of inventory, from task trainers, to full body human patient simulators, to medical equipment used in all types of health care settings, allows students and practicing professionals to have opportunities to learn using current, sophisticated technology, and technologically advanced equipment before they are expected to use them on real patients in clinical practice. The HSSC has a state of the art audiovisual and data management system (comprised of cameras, microphones, computers, wireless AV control panels and servers all managed by an integrated software system with a web-based component) that provides the infrastructure required to record events, easily retrieve recordings, manage Center operations and gather data for the purposes of documentation, assessment, and research.
"Ever since Celeste Villanueva opened the HSSC, it has been a success," says current SMU Director of HSSC, Jeanette Wong, RN, MPA. "People learn by actively engaging in an immersive, supportive, reflective and structured environment. The HSSC team specializes in designing, developing, implementing, and evaluating simulation-based learning, which can use computerized manikins (manikin-based simulation) and standardized patients (real people)."
Villanueva is now director of SMU's Center for Innovation & Excellence in Learning and SMU assistant academic vice president.
A Certified Health Care Simulation Educator, Wong joined the HSSC shortly after it opened as the Operation Manager, and became the Director in 2017. Wong notes how the Center started out with 5,000 square feet, two simulation suites, a large training room, and was originally designed for only wired manikins.
"We are now all wireless," Wong proudly states of the manikins.
Sutter Coast
Some academic health care institutions and hospitals have a single simulation lab with or without separate debriefing and control rooms. Sutter Coast Hospital is a community-based, not-for-profit hospital serving rural residents of Del Norte County, Calif., and Curry County, Ore. The 49-bed acute care hospital is a Sutter Health affiliate located in Crescent City, Calif. Shauna Burdick, RN, MSN is the Education Coordinator at Sutter Coast Hospital and works with many of the local colleges with nursing programs, including Humboldt State University and College of the Redwoods, local first responders, and others that use its simulation lab.
"Our goal is to ensure staff and others are up-to-date on life saving measures and to offer the safest care possible," says Burdick. "We have education opportunities for local EMT, RN, and NP students so that all are well-trained for real-life, especially for scenarios that are high-risk, but low occurring."
Patients
In simulation training, often a learner's first patient isn't a human being — it's a computerized full-body human manikin with replicated vital signs and health care indicators. It reacts in much the same way a living person would react to treatment and testing. The big difference is that if something goes wrong, those teaching and practicing a medical procedure can hit the proverbial reset button without real consequences for the patient.
Patients that are high fidelity simulators are manikins that mimic many complex biological systems, such as cardiac and respiratory functions, measurable blood pressure, palpable pulses, EKG displays, pulse oximeter, arterial waveforms, pulmonary artery waveforms and anesthetic gases. These manikins are designed to help health care students and professionals of all levels develop the specialized skills needed to effectively communicate with, diagnose, and treat patients throughout the continuum of care, including pre-hospital, transport, emergency, nursing, and intensive care settings.
At Sutter Coast, the staff at the simulation lab is looking forward to incorporating a recently purchased pediatric sim that represents the range from 2 to 10 years old.
"We will have manikins for all three levels," says Burdick. "Adult, infant, and now pediatric. Many students have a fear of young kids. We can now set up hands-on-instrument type scenarios that will call for diagnosis, treatment plan, and planned medications. Having a Pediatric Critical Care class is such a benefit for the rural area. There is nothing like being in an emergency situation. We can create a high-risk, but low use scenario, so that when the real thing comes along, people will be more prepared."
Immersive learning experiences, large or small scale, do not always make use of high-fidelity full-body human patient simulators; popular today are actors who portray patients and health care professionals known as standardized patients (SP). Fans of the TV sitcom "Seinfeld" might recall the episode in which Kramer served rather famously as a standardized patient with a sexually transmitted disease.
"Today, 70 to 80 percent of our simulations use standardized patients," reveals Wong. "These well-trained actors are assigned cases, they study it, and then come to the lab to be our patients. Using SPs gives a more real effect for students, as well as a significant opportunity for students to demonstrate empathy and compassion."
The professional actors portray a patient in circumstances like those that might occur in a real clinical setting. In addition to the physical symptoms of a specific medical diagnosis, an SP is prepared to tell stories, express emotions, show stress, and exhibit attitudes toward the medical profession.
"It's like a movie scene, all smoke and mirrors," says Wong of the moulage (application of make-up to simulate clinical presentations). "The portrayals can be very convincing. The SP can give history, and by using remote control adjunct simulation equipment, such as a simulated stethoscope, the student can hear different sounds, heartbeat rates, and breath sounds. The student takes it all in and then can complete a health assessment and treatment plan."
The use of SPs has been around since the 1960s, and are used to portray realistic patients in a variety of settings.
"We give a case and provide face-to-face training to our SPs. They become this patient for our students and allow for a safe, real-life patient encounter for students to practice their communication and clinical skills. Our SPs know us so well. We really trust them and they are a vital part of the learning process."
Scenario Development and Debriefing
Simulation scenarios are case studies with specific learning outcomes, which can be reproduced in the lab. Learners, who assume varying health care roles, must respond to the scenario as if they were caring for a real patient. Additional learners may watch and listen either through a one-way mirror or remotely via a live video transmission. When determining what simulation scenarios to present, Burdick uses data to glean what would benefit the participants and the hospital most.
"There are no schedules or guidelines set in stone. We research hot topics, as well as try to assess where weaknesses might be," says Burdick. "We may run high risk pediatrics, or life-threatening scenarios. We also focus on re-education. We look at data and if there is anything out of range we will take a closer look to see if more education is needed. For example, we were seeing a disproportionate number of code blues to rapid response calls, so we did a class to re-educate and found misclassifications were happening. After the class we saw a noticeable decrease in code blue calls, and an increase in rapid response calls."
Ellie Popadic, MBA, Director of Ambulatory Services, Strategy and Business Development at Sutter Coast Hospital notes that the biggest advantage to simulation learning is the ability to gain experience and practice procedures, without the risk of harming a physical patient offering the potential for tremendous improvements in patient safety and outcomes.
"Sutter Coast uses the sim lab for quality improvement and process improvement" comments Popadic. "We will select cases that allow us to offer real-life situations without anyone being at risk, yet contributes to the enhanced education of our nursing staff."
In the simulated environment, learners can have their errors corrected in real-time by an instructor, professor or training administrator. The quickness in receiving guided results and corrections helps users to internalize what went wrong, how the error was corrected, and how to avoid making that same error the next time the simulated situation arises.
At the HSSC, Wong comments that the simulation scenario often last 10-15 minutes from start to stop, and are always driven by objectives. But it is the debrief that is the most important part of the process.
"The real learning in the exercise comes at the end," explains Wong. "The simulation is 10-15 minutes, and the debrief will be twice that long. Moderated by a content expert trained in debrief skills, we want the student to reflect on what went well, and really give the student time to do some critical thinking about the process. We may even ask the student to go home and reflect on the scenario. Often there is an assignment or activity once the sim lab exercise is over, like a patient education plan or other activity."
The HSSC sims are recorded, but generally, unless there is something the learner wants to see, or there is a specific part faculty wants to point out, the recordings are not the focus and the post scenario activities do not dwell on the recording.
"When a SP is involved in the simulation experience, they provide critical feedback to the student. Often, the most impactful feedback comes from the them, because the SP provides feedback from the patient perspective," observes Wong.
The student in the scenario setting is not the only learner. Typical scenarios have two to three students, especially nursing, each with a different role. Still others are in the debrief room viewing the live stream. Those viewers are assigned to watch for particular objectives. The viewers evaluate if the simulation learners accomplish their objectives, and make note of what went well and what could be improved.
Burdick agrees that the debrief period is where the majority of the learning takes place for both the scenario participant and the viewers.
"There is nearly as much critical thinking occurring for the observer, as the scenario participant," states Burdick. "The observer is able to take it all in, perhaps even more so than the student in the spotlight in the scenario. During the debrief we identify gaps in knowledge and answer the question, 'What did you find that you did not know?' and discuss what needs improvement. When you have the chance to slow down, you get to the a-ha. With the simulation lab, there are lots of a-ha moments."
Reflection and assessment are crucial parts of simulation-based education. As learners review and reflect on their actions during the scenario, they are encouraged to find practice gaps and articulate ways to improve future performance. Debriefing is a key component of simulation education where the learners themselves consider their own behaviors, learn from the experience, change future behaviors and become better health care practitioners.
"Simulation is a very effective way to learn," continues Wong. "One hour equals two hours of clinical work because students are so engaged. It is a very intense learning experience in the labs. In addition, we can set up high-intense patient situations in a safe environment and interact with and implement patient care. Out in the real world, a student could spend eight hours onsite at a labor and delivery unit and not see a single birth. At the HSSC they can participate in multiple complicated births and learn valuable lessons."
Simulation Labs Are for Everyone
Simulation-based learning enhances interprofessional practice and education (IPE), just as it does for the novice practitioner, by immersing students in team-based scenarios in a realistic health care environment. Students and professionals from UC Berkeley, UC San Francisco, along with Cal State East Bay, San Jose State, San Francisco State, and John F. Kennedy universities often interact in HSSC IPE courses, further enriching the experience. Providing the skills to effectively practice IPE, all staff, faculty, and students are trained in TeamSTEPPS — or Team Strategies and Tools to Enhance Performance and Patient Safety — the national standard for strengthening teamwork and communication among health care professionals. SMU was one of the first health care universities in the nation to offer the training campus-wide.
"Lots of Family Nurse Practitioners, Pre-licensures, Program of Nurse Anesthesia, Occupational Therapists, Physical Therapists, Physician Assistants and others bring it all together in simulation at our Center," says Wong. "TeamSTEPPS is incorporated into all IPE scenarios. These are really valuable to the students. They learn so much about each other, what roles each has, and we take that into the sim lab and integrate multiple roles because of complexity of care. TeamSTEPPS is what drives scenarios. The communications and teamwork is the focus, not just physiology."
The scenario is immediately followed by a guided debrief with a faculty member trained in IPE, who leads the reflective discussion. The heart of the debrief is on non-technical skills, including leadership, team building, problem solving, situational awareness, communication skills, and resource management.
For a NP generally the HSSC scenario set up is a one-on-one encounter with a SP.
"This is because generally that is how an NP often sees patients in their clinics at work," explains Wong. "We do a lot with FNP clinicians who need re-freshers, learn telemedicine skills, practice with technology, and newer procedures. What better place than here? We all want better patient outcomes. Due to COVID-19, limitations have been lifted on telemedicine, but wouldn't it be nice if we could have had some of these folks practice using telemedicine simulation before launching into it with patients? Advanced practitioners would have felt so much more confident and competent."
Transforming Patient Care
Advances in software development, precision equipment, and artificial intelligence have revolutionized medical education. Simulation labs provide the ideal learning space where clinicians of all levels can practice and improve their clinical skills, and decision-making skills, while also producing a compassionate and caring workforce.
"Using sim as part of education really gives a great foundation of what's going to happen in the real-world," believes Wong. "Because the individual has a better mastery of the situation, instead of feeling stressed out, or wondering what the next move should be, or be worried about missing something important, the health care professional can instead show more empathy and compassion for the patient. The sim immerses the student in real-life situations based on faculty experience and uses real data in an environment that is both safe psychologically and physically for them to learn and to make mistakes. We celebrate mistakes!"
Simulation labs allow learners to gain insight into how to treat a wide variety of ailments, illnesses, conditions, and diseases. In rural places such as where Sutter Coast is located, it is hard to get students into a sufficient number of patient care settings where they are exposed to the types of illnesses and situations where they need to have basic training.
One of the reasons the sim labs approach is so powerful, is because the scenarios allow students to learn in a profound way," states Burdick. "Some people learn best by book, some by lecture, some by video, but most people in health care need hands on training with instruments, products, treatments, and processes. It is an exciting time right now with education changing. We have an opportunity to collaborate with local colleges and universities. We started with two school contracts and now we are up to 15 because we can bring invaluable experience, although we are in a rural setting."
Popadic agrees. "It is an exciting time. But it is more than a training opportunity, it is an opportunity to serve the entire community, and allow a risk free environment for health care professionals to get it right and provide care in a risk free way. Simulation education has the potential to transform patient care, safety, and outcomes."