CANP Endorses Gavin Newsom for Governor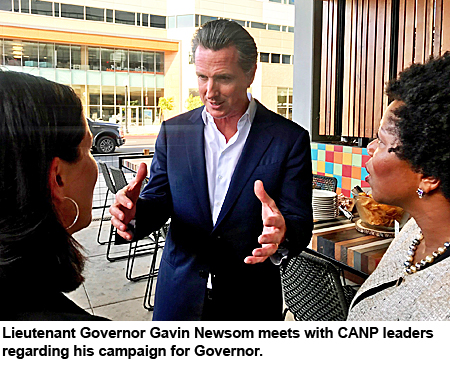 Today the California Association for Nurse Practitioners officially endorsed Lieutenant Governor Gavin Newsom for Governor.
"CANP is proud to support Gavin Newsom for Governor," said CANP President Theresa Ullrich, MSN FNP-C. "Lieutenant Governor Newsom's commitment to health care is unmatched, and his innovative ideas to establish school health centers fit perfectly with the mission of nurse practitioners (NPs) who are often on the frontlines of the healthcare delivery system."
"In addition, Newsom recognizes California needs to do more to address its provider shortage by, among other policies, establishing new pathways for nurse practitioners to practice to the full extent of their education and training."
"CANP believes Lt. Governor Newsom is a 'can-do' leader of courage and commitment who will shake up our current health system to the benefit of providers and patients alike, "Ullrich added. "We look forward to working with him to ensure that NPs in California can work to the full extent of their education and training to expand patient access to care. And we are proud to offer the support of our association that represents more than 22,000 nurse practitioners in California, as we unequivocally endorse Gavin Newsom's campaign for Governor."
As Mayor of San Francisco, Newsom created the nation's first universal access health system and has made the reform of health care a top priority. For more information on Gavin Newsom's candidacy, please visit GavinNewsom.com.