Together Affecting Change
Every yea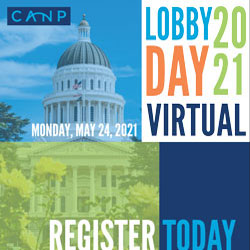 r CANP shows its strength at the State Capitol by bringing NPs, legislators, and key policy decision-makers together. Thank you to our members for joining us virtually on May 24 for Lobby Day 2021 to learn about this year's mission-critical legislative issues and help advance CANP's bold policy agenda. We are grateful for your leadership, support, and engagement on behalf of nurse practitioners across California. Please save the date for Lobby Day 2022 on May 3, 2022, at the Safe Credit Union Convention Center in Sacramento.

It was an action-packed morning of policymaking, celebration, and planning for the future of our profession. We were thrilled to recognize AB 890 bill author Assemblymember Jim Wood and his Chief of Staff Liz Snow with CANP's Nurse Practitioner Advocate of the Year award. This honor is presented to nurse practitioner advocates in recognition of tremendous legislative, policy, and regulatory contributions. Wood and Snow's commitment to California nurse practitioners is immeasurable, turning action into law during CANP's decade-long battle to practice without physician supervision.

CANP's Legislative Advocate, Kristy Wiese, who was instrumental in the passage of AB 890, provided an update on the bill implementation status, as well as our advocacy efforts on other pivotal legislation impacting NPs. Although AB 890 became law on January 1, 2021, there is more work to do. We are focused both legislatively and through the regulatory process to ensure that the full intent of the legislation is achieved.

Wiese was joined by CANP Health Policy and Practice Committee Co-Chairs, Amy Ziegler and Alexa Curtis, to discuss the organization's advocacy efforts on other pivotal legislation impacting NPs.

John Myers, Sacramento Bureau Chief for the Los Angeles Times, and Marisa Lagos, California Politics and Government Desk Correspondent for KQED, gave us an exclusive "View from Sacramento," leading a lively and insightful conversation on California politics moderated by CANP's spokesperson Andrew Acosta.

See the full agenda from Lobby Day. Although we missed being together in person, a bonus of our virtual setting is that all Lobby Day sessions are available to attendees via the event platform. If you are a CANP member who could not attend but would like to access the recordings, please email Association Services Coordinator Jessica Thompson.
This annual event is always exciting and inspirational, leaving nurse practitioner participants empowered to continue the conversation at the local level.