Political Action Committee
Join the Effort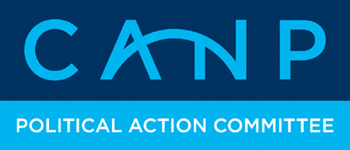 The California Association for Nurse Practitioners Political Action Committee (PAC) is a bipartisan effort dedicated to supporting state legislative candidates. The CANP PAC has been active in California for over 20 years, supporting many successful candidates. You can engage in the political process – and make a difference – by contributing to the PAC.
The PAC is a vital component of CANP's political efforts. PACs are established so that contributions from a number of individuals can be aggregated into one fund that is then used to make contributions to support a particular cause or candidate. A well-funded PAC helps us show strength in numbers and a commitment to engage in the political process.
Who Can Donate?
Individuals
It's easy for an individual to make a contribution to the CANP PAC. Just click the button below and follow the prompts to fill out a contribution form. Members also have the ability to make PAC contributions when submitting their annual membership renewal forms.

Chapters
Individual CANP chapters are encouraged to host local CANP PAC fundraising events. Be aware that there are many legal guidelines and requirements to follow with regard to PAC fundraising, including the need to complete this Auction Fundraising Information Form if your chapter conducts a raffle or prize drawing as a means to raise funds to be donated to the PAC. The form must be completed for each item that is donated to be awarded as a prize.
---
Disclaimer
All contributions and gifts to the CANP PAC are considered voluntary political contributions and are not tax deductible.