Measure Would Allow California to Join 20 States
and Increase the Number of Trained Health Care Providers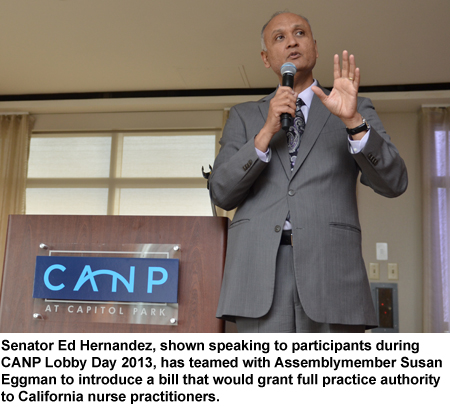 SACRAMENTO – Senate Bill 323 authored by Sen. Ed Hernández (D-West Covina) and Assemblymember Susan Eggman (D-Stockton) that would grant California's over 18,000 nurse practitioners full practice authority was introduced this week.
"This is not a new fight here in California, but with 2.5 million previously uninsured Californians receiving health coverage under the Affordable Care Act we need to pass this law to ensure that more trained health care professionals are available," said Dr. Hernández. "It is well documented that California is facing a shortage of primary care physicians and giving trained nurse practitioners full practice authority would go a long way to help remedy this situation."
"A recent analysis done by the Bay Area Council showed that granting full practice authority to nurse practitioners in California would boost the number of nurse practitioners throughout California by almost 25%, especially in rural communities," said Assemblymember Susan Eggman "In addition, the analysis highlighted that allowing nurse practitioners to practice to the full extent of their education and training in California would increase preventative care visits which would bring a significant cost savings to the state."
Read the Bay Area Council study.
According to a July 2013 report from the Kaiser Family Foundation, studies have shown that primary care provided by nurse practitioners has been as safe and effective as care provided by doctors. A 2010 report from the Institute of Medicine points to 50 years of evidence confirming that conclusion.
"Nurse practitioners are advanced practice registered nurses and it is one of the fastest growing professions in the health care field," said California Association for Nurse Practitioners President Donna Emanuele, DNP. "SB 323 is needed to allow California's nurse practitioners do what we are educated and trained for - diagnose, treat and prescribe medications with full practice authority."
SB 323 has been introduced as a "spot bill", but will be heard in the Senate Business and Professions Committee next month. SB 323 is similar to SB 491 carried by Senator Hernandez in 2013. SB 491 died in Assembly Appropriations.
Background on CA Nurse Practitioners
NPs are advanced practice registered nurses who have pursued higher education, a master's or doctorate degree, and certification as an NP. In order to be more competitive in today's job market, many NPs now pursue additional specialty education and training in specialties like pediatrics, geriatrics, or women's health, while many remain focused on providing primary care. NPs play an important role in the health care delivery system and provide care in a variety of settings such as hospitals, community clinics, and private practice settings including in many medically underserved communities throughout the state. The number of NPs have doubled across the United States over the past ten years. In addition, U.S. News and World Report ranked NP as the second best overall job of 2015.