NP Week
Commemorate, Promote, Celebrate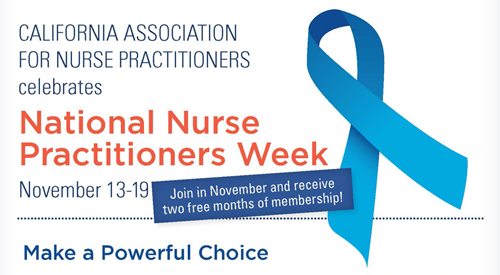 Each year, one week in November is declared National Nurse Practitioner Week. The occasion is not only a great opportunity to recognize the many contributions of nurse practitioners, but also to promote awareness of NPs and the California Association for Nurse Practitioners.
In 2016, NP Week took place November 13-19. CANP developed a number of activities, offers and resources to help commemorate the occasion, whether promoting NP awareness in local communities or simply joining with colleagues to celebrate the nurse practitioner profession.
Among the most popular NP Week features in 2016 was the "Instagram Takeover," in which five different CANP members utilized CANP's Instagram page to share photos from a day in the life of a nurse practitioner with a unique view of each day's activities.
CANP again conducted a "Blue Ribbon Campaign" for NP Week, urging CANP chapters and members to distribute and wear blue "awareness" ribbons to commemorate NP Week and promote recognition of the profession. Inspired by similar efforts conducted by individual chapters in the past, the campaign has proven wildly popular since adopted by CANP in 2011.
In addition, CANP presented a number of activities and offers from our valued partners, including: