Addressing Opioid Use Disorder Through Medication Assisted Treatment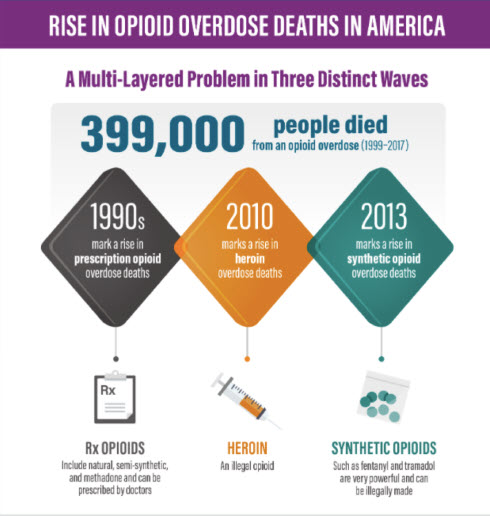 By Stephanie Jordan
Managing Editor, Connections
The substance use disorder epidemic, which includes opioids, is now more prevalent than common medical diseases, such as diabetes and is 1.5 times more prevalent than all cancer diagnoses combined, reports former Surgeon General Vivek H. Murthy, MD, MBA. The numbers are staggering. The U.S. consumes roughly 80 percent of all the world's opioids.
"The opioid overdose epidemic is the public health crisis of our time," posts the U.S. CDC. "Over the past few years, U.S. life expectancy has declined, a trend largely driven by deaths from drug overdose. In 2017, there were over 70,000 drug overdose deaths in the U.S.—more than 47,000 of these involved prescription or illicit opioids."
Types of Opioids
All opioids are chemically related and interact with opioid receptors on nerve cells in the body and brain. Opioid pain relievers are generally safe when taken for a short time and as prescribed by a doctor, but because they produce euphoria in addition to pain relief, they can be misused (taken in a different way or in a larger quantity than prescribed, or taken without a doctor's prescription). Regular use—even as prescribed by a doctor—can lead to dependence and, when misused, opioid pain relievers can lead to addiction, overdose incidents, and deaths.

The opioid crisis includes the following prescription and nonprescription (illegal) drugs:
Natural, including morphine and codeine, and semi-synthetic opioids like oxycodone, hydrocodone, hydromorphone, and oxymorphone
Methadone, a synthetic opioid
Synthetic opioids, other than methadone (drugs like tramadol and fentanyl)
Heroin, an illicit (illegally made) opioid synthesized from morphine that can be a white or brown powder or a black sticky substance
A 2019 report, Medications for Opioid Use Disorder Save Lives, from the National Academies of Sciences, Engineering, and Medicine states that more than 2 million people in the United States have opioid use disorder (OUD), a life-threatening chronic brain disease caused by prolonged use of prescription opioids, heroin, or other illicit opioids. People with OUD face a greatly increased risk of early death from overdose, infectious diseases, trauma, and suicide.
But how did we get here? It appears it started with the best of intentions.
"Historically we were taught to prescribe opiates as the best method to treat pain," explains Alexa Curtis, PhD, MPH, FNP-BC, and member of the California Association for Nurse Practitioners board of directors. "Beginning in the 1980s and into the 90s opiates were over prescribed with the best of intentions. Patients became addicted and when the prescription opioid availability ran out, often the patient would crossover into heroin to avoid withdrawal. Recently the CDC published prescription guidelines intended to reduce the risk of opioid addiction, particularly in those with chronic pain."
What We Know Now
Fentanyl has become a much larger concern in California over the course of 2018 and 2019. Fentanyl overdoses in the state spiked over the last two years, from a total of 431 fentanyl-related overdoses in 2017 to a total of 743 in 2018. Anecdotally, treatment providers, harm reduction organizations, and first responders have shared concerns about heroin and methamphetamine being laced with fentanyl.
"The main perpetrator of overdose deaths beginning around 2015 was the increased use of synthetic opioids," agrees Curtis. "In particular the danger of lacing street drugs with other substances."
Governor's Budget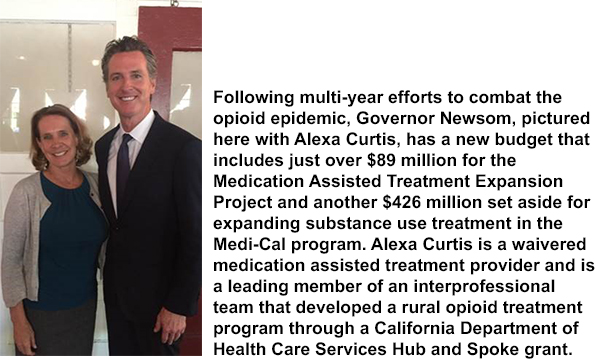 Following multi-year efforts to combat the opioid epidemic, Governor Newsom recently announced that his new budget includes just over $89 million for the Medication Assisted Treatment (MAT) Expansion Project, which helps reduce opioid overdose through the use of Naloxone. There is $426 million set aside for expanding substance use treatment in the Medi-Cal program.
The Governor's support for MAT is pleasing to Curtis.
"Governor Newsom understands that OUD and homelessness, also at an epidemic level in California, go hand in hand," says Curtis. "OUD is a priority issue for him and he has a sincere intent to partner with communities and use all the resources possible to address these issues."
The Promise of MAT
MAT for opioid use disorder, according to Substance Abuse and Mental Health Services Administration (SAMHSA) website, is the use of medications, in combination with counseling and behavioral therapies, to provide a "whole-patient" approach to the treatment of substance use disorders. Research shows that a combination of medication and therapy can successfully treat these disorders, and for some people struggling with addiction, MAT can help sustain recovery. While some patients can taper off after a period of time, others may remain on MAT the rest of their lives.
In addition to the overdose prevention drug Naloxone, which can reverse an opioid overdose in an emergency situation, there are three medications commonly used to treat opioid addiction:
Methadone, clinic-based opioid agonist that does not block other narcotics while preventing withdrawal while taking it; daily liquid dispensed only in specialty regulated clinics.
Naltrexone, office-based non-addictive opioid antagonist that blocks the effects of other narcotics and reduces alcohol cravings; daily pill or monthly injection.
Buprenorphine, office-based partial opioid agonist that blocks other narcotics while reducing opioid withdrawal and overdose risk; daily dissolving tablet, cheek film, monthly injection or 6-month implant under the skin.
The ultimate goal of MAT is the ability to live a healthy and self-directed life. This treatment approach has been shown to:
Improve patient survival
Increase retention in treatment
Decrease illicit opiate use and other criminal activity among people with substance use disorders
Increase patients' ability to gain and maintain employment
Improve birth outcomes among women who have substance use disorders and are pregnant
The slow adoption of these evidence-based treatment options for alcohol and opioid dependence is partly due to misconceptions about substituting one drug for another. Discrimination against MAT patients is also a factor, despite state and federal laws clearly prohibiting it. Other factors include lack of training for prescribing providers and negative opinions toward MAT in communities and among health care professionals.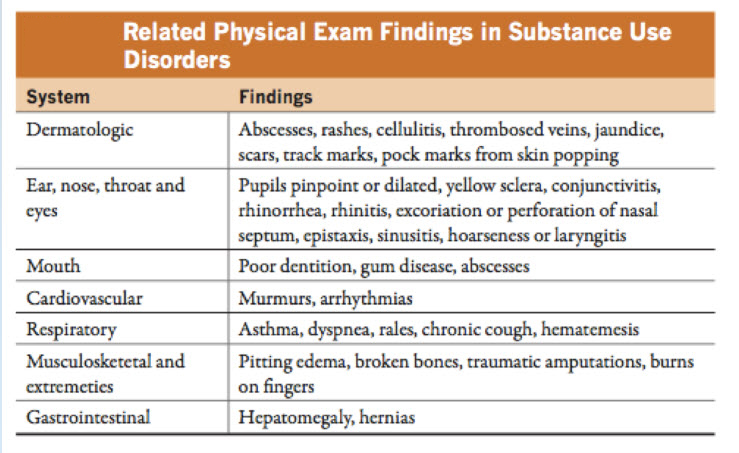 Substance-abuse experts, like Curtis, believe MAT to be an excellent option to combat OUD. MAT involves giving a patient one of the three above-mentioned medications, but most commonly buprenorphine, to help suppress their desire for heroin and other opioids. While it has been controversial, studies show it's a promising solution for weaning addicted patients off dangerous doses of opioids.
Here's why it works: Buprenorphine partially attaches to the opioid receptors reducing the intense withdrawal symptoms and opioid cravings. There is a risk of buprenorphine diversion, taking the medication in a manner that is not prescribed such as intravenously. So, drugmakers add in Naloxone: an opiate antagonist that blocks the opioid receptors, if the medication is altered and makes it less likely to be abused. The two drugs combined are sold under the brand name Suboxone.
Most people with OUD in the United States do not receive any treatment at all—and only a fraction of people that do will receive medications. Access to evidence-based treatment is poor across the board, but it is starkly inequitable among certain generational, racial, ethnic, social, and economic groups.
"If you look at hotspots, overdoses are not just an urban issue. Rural and tribal communities struggle to get access to care," points out Curtis, who specializes in caring for underserved populations in rural communities throughout California.
Across the country, American Indian and Native Alaskan people die from unintentional drug poisoning at almost twice the rate of the overall population.
Need An Army
To combat the OUD epidemic, Curtis knows that an ample NP workforce is required to get out in underserved areas to treat the disease. She has a current interprofessional SAMHSA award to prepare future clinicians to treat opioid use disorder.
"The availability of a trained NP workforce is crucial right now," believes Curtis. "Our grant team is focused right now on making sure NP grads from USF and Sonoma State have the training they need to be able to treat OUD patients."
It isn't only the practical ability to treat OUD that Curtis is concentrating her efforts on, it is also getting barriers removed. The scientific understanding of OUD differs from public perception of the disorder, which is colored by the misconception of addiction as simply a moral failing.
"We need to address intent too. Stigma is a major barrier to people seeking treatment. We want to be sure we are not being judgmental, or making assumptions, and that we are careful with the language we use. It is not unusual for there to be high levels of misunderstanding and stigma toward drug addiction. We should be just as professional with OUD as with diabetes, or hypertension.
What You Can Do
Curtis recommends all advanced practice providers reflect upon their own prescription practices and review and follow the opioid prescribing recommendations made by the CDC.
"If medication for pain management is required, an opioid is not the first line drug of choice," she says. "And if an opiate does get prescribed, it is for a short period of time with clearly defined treatment goals."
She also encourages NPs to really know what to look for to properly diagnose OUD through a thorough universal screening, physical assessment, and behavioral findings. The best thing, however, that NPs can do is become a provider of MAT.
"The online training is free and offered through the SAMHSA," encourages Curtis. It is open to any licensed prescribing provider with a DEA number. You will have 24 hours of training, apply for a DEA waiver for buprenorphine, and then you will be set to prescribe."
According to the National Academies of Sciences, Engineering, and Medicine report, available evidence suggests that medication-based treatment for opioid use disorder is highly effective across all subgroups of the population, including adolescents and older persons; pregnant women; individuals with co-occurring disorders (e.g., psychiatric, substance use disorders, infectious diseases); and all racial, sex and gender, and socioeconomic groups.
Curtis acknowledges that the OUD patient population can be challenging and that it will take a workforce that is trained and has the desire to work in the addiction field to truly make a dent in the opioid epidemic.
"People are aware that treatment can be successful," concludes Curtis, "It is gratifying to watch the patients I am treating now with the help of medication reconstitute their lives away from OUD. It is amazing the transformation that can happen."
---
About Alexa Curtis