Well-Earned Honors
Kristen Kopelson and Wendy Smith Named as Winners of 2015 CANP Awards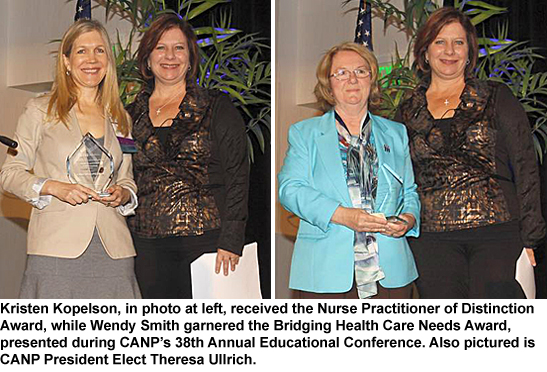 Kristin Kopelson, a longtime CANP leader at both the local and state levels, and Wendy Smith, Director of the FNP program at Sonoma State University, were honored as the recipients of the 2015 CANP Awards, presented during CANP's 38th Annual Educational Conference.
A member of CANP's West Los Angeles North Chapter, Kopelson has been involved in advancing the role of the NP both professionally and academically since graduating from the UCLA School of Nursing in 1996. As a member and leader in CANP since 1995, both as an officer in the West L.A. North Chapter and at the state level as a member of CANP's Board of Directors, she has worked tirelessly to educate and support the NP profession.
Kopelson joined the Veterans Administration administrative team in 2008 as the Lead Nurse Practitioner and Site Manager of the West Los Angeles VA clinics. As the first lead, she supervises and mentors more than 20 NPs while also developing new and innovative NP positions.
As Co-Chair of the Advanced Practice Registered Nurse Review Board since 2008, she supports over 100 NPs in the credentialing process and represents them at the Professional Standards Board, weighing in on not only on NPs but on physician practice as well.
As Site Manager, she supports the operations, clinical performance, and outcomes measures in the VA clinics in addition to her clinical responsibilities. She works with an interdisciplinary leadership team to improve systems of care for our nation's veterans.
The mother of a son with Tourette Syndrome, she has joined the Tourette Syndrome Association in supporting self-advocacy. She helped her son become a Teen Ambassador, training in Washington DC and doing outreach to educate others about TS. Together, they have lobbied Congress to support funding for research and advocacy programming, provided education to CANP and area schools, and have supported individuals and families learning how to cope.
Smith, a member of CANP's North Bay Chapter, has made a significant impact on the history of NPs and healthcare in California, primarily through her role as Director of the FNP program at Sonoma State University, and specifically in the innovative curriculum changes she has guided for the Cal State system.
As the FNP Program Director, she has written and been awarded 14 competitive grants. She has procured over $3.7 million in funding support for the delivery of the FNP program in rural areas of California and utilized the federal grant awards to launch an innovative distance delivery program to rural CSU campuses which is flourishing today.
These grants benefit local rural and frontier communities all over Northern California, enabling nurse practitioner students to work in medical offices, rural and community clinics, and homeless shelters, providing care to medically underserved populations close to where they live.
Her program has provided myriad pathways for a nurse to progress to an FNP. With multiple entry points into the FNP program, various orders of taking classes, and distance learning opportunities, her program has made FNP training accessible, allowing Bachelor prepared nurses to remain in their home communities and earn their FNP, ultimately working in these communities making top quality care accessible to populations in need.
The Nurse Practitioner of Distinction Award specifically recognizes a CANP member who demonstrates excellence in furthering the nurse practitioner role either in legislative efforts or clinical application. The intention is to confer the highest recognition for an NP – to be recognized for excellence by their colleagues.
The Bridging Health Care Needs Award recognizes nurse practitioners who are active as a catalyst for positive change in the health care system and who demonstrate the value of the care nurse practitioners provide to their patients.
See the list of past winners.