Nursing Excellence Award Nominations Recognize Outstanding Achievements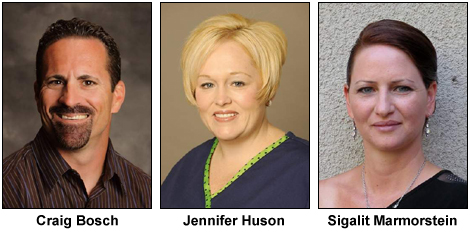 Three members of the California Association for Nurse Practitioners are among the 30 nominees for 2012 Nursing Excellence Awards in the California Region. The awards program is conducted by the website Nurse.com, and is sponsored by Johnson & Johnson and the University of Phoenix College of Nursing.
The program honors nurses in nine regions across the country, with each region presenting awards in six different categories. The California Region Awards Gala takes place August 24 at the Hilton Los Angeles in Universal City.
Sigalit Marmorstein, RN, PHN, MSN, FNP-BC, is among five nominees in the Advancing and Leading the Profession category. She is the chief ER nurse practitioner at Verdugo Hills Hospital in Glendale, and is also a part-time faculty member in the Department of Nursing at California State University Northridge.
Marmorstein successfully established an NP-run triage within her facility's Emergency Department, convincing hospital administration that NPs would make a difference in patient care and help the community by increasing access to care while providing more efficient service. Today, the unit is staffed by six full-time NPs and three RNs, who provide service to about 800 patients per month, many of them uninsured, underserved clients. She has also mentored ten APRNs to be successful caregivers, and is in the process of establishing a nurse practitioner residency in the ED, with first students to be admitted in 2013.
Earlier this year, Marmorstein was the co-recipient of CANP's Bridging Health Care Needs Award. She is a member of CANP's Greater Pasadena Chapter, where she serves as Legislative Chair.
Craig Bosch, RN, MSN, FNP, was nominated in the Clinical Care, Inpatient category. A clinical nurse consultant, pain and palliative care, at Memorial Medical Center in Modesto, Bosch provides education and participates in administrative/leadership functions to promote and enhance the delivery of safe patient care. He recently oversaw a change of IV insulin targets, providing guidance with safe and appropriate glycemic targets based on the most recent recommendations from the American Association of Clinical Endocrinologists and American Diabetes Association.
Colleagues note that he facilitated a systemwide, multidisciplinary group making changes in heparin dosing after evaluating its use in the electronic environment. Bosch was able to articulate recommended best practices leading to change that promotes reduction of errors. Bosch is a member of CANP's Sierra Area Chapter.
Jennifer Huson, RN, MSN, CPNP, CNS, is nominated in the Volunteerism and Service category. A nurse practitioner at Children's Hospital Los Angeles, Huson was recognized for her volunteer service with the Dream Street Foundation, where she coordinates patient care in a summer camp setting. She also handles outreach on the foundation's behalf to ancillary services such as local fire departments, hospitals and laboratories, and also visits local hospitals with other foundation volunteers to help educate parents, patients, families and staff. Huson is a member of CANP's Inland Empire Chapter.
Awards are also due to be presented in the Education and Mentorship; Home, Community and Ambulatory Care; and Patient and Staff Management categories. Regional winners are entered into the national awards program, with national honorees named later in the year. Nurse.com and its affiliated publications are part of the Gannett Company media publishing group.