Long-Time Champion of Patients and Providers Named NP Advocate of the Year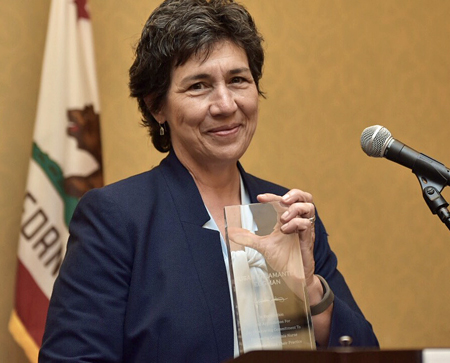 Assemblymember Susan Talamantes Eggman has been honored by the California Association for Nurse Practitioners as the 2016 Nurse Practitioner Advocate of the Year. The announcement was made during CANP's annual Lobby Day event held May 8 in Sacramento.
Eggman has represented the 13th Assembly District in the San Joaquin Delta region since 2012. Among her many legislative accomplishments, Eggman is the author of 2015's End of Life Option Act, which granted terminally-ill Californians the right to seek a physician's aid in dying.
Being an advocate for patients and a health care practitioner herself, she is also an advocate for those who provide patient care. To that end, she was the co-author (with Senator Ed Hernandez) of 2015's Senate Bill 323, which would have granted full practice authority to California nurse practitioners.
Eggman joined the U.S. Army out of high school and served four years as a medic. After her service, she attended California State University, Stanislaus. While she worked on a bachelor's degree in psychology, she started working at a local alcohol and drug abuse program. That led, following graduation, to a job at the Modesto Psychiatric Center, at a time when the nation was emptying its mental hospitals in pursuit of short-sighted reforms that left many people without any care at all.
She began working in hospice care, at the Emanuel Medical Center, in Turlock, as she began pursuing a master's degree in social work. After that, she worked as a mental health provider and medical social worker before completing a Ph.D. at Portland State University. An associate professor of social work at California State University, Sacramento, Susan has taken a leave of absence to serve on the State Assembly. A lifelong learner, Susan passed the Licensed Clinical Social Worker examination shortly after assuming office in 2012.
The Chair of the Assembly Committee on Local Government, Eggman also serves on the committees on Agriculture, Appropriations, Business and Professions, Utilities and Commerce, and Water, Parks, and Wildlife. She was elected in January 2015 to serve as the chair of the California LGBT Caucus.
The NP Advocate of the Year award is presented by CANP in recognition of contributions to the NP profession by those in the legislative, policy and regulatory realms. Since its institution in 2002, previous recipients of the NP Advocate of the Year Award have included Micah Weinberg, President of the Bay Area Council Economic Institute (in 2016); Assembly Speaker Toni Atkins (2015); Senator Gloria Negrete-McLeod (2011); Assemblymember Ed Hernandez (2008); Michael Loughran, Executive Vice President for Healthcare Division at NSO (2006); Assemblymember Cindy Montanez (2004); Senator Liz Figueroa (2003); and Jake Mater, Senior Manager of Government Affairs with Aventis Pharmaceuticals (2002).