Sen. Jeff Stone Honored as Nurse Practitioner Advocate of the Year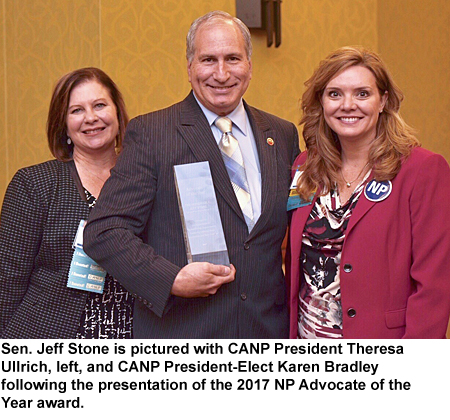 Senator Jeff Stone has been honored by the California Association for Nurse Practitioners as the 2017 Nurse Practitioner Advocate of the Year. The announcement was made during CANP's annual Lobby Day event held May 1 in Sacramento.
Since 2014, Sen. Stone (R-Temecula) has represented the 28th Senate District, which stretches from Southwest Riverside County to the Arizona border. A pharmacist by training, he previously served 12 years on the Temecula City Council, including a stint as Mayor, and 10 years on the Riverside County Board of Supervisors.
Born in Los Angeles and raised in Anaheim, he graduated from the University of Southern California with a Doctor of Pharmacy degree. Following his graduation, he settled in the Temecula Valley, and in 1983 opened the Temecula Pharmacy, the first of many successful neighborhood pharmacies. Sen. Stone has taught graduate nursing students seeking their masters in nursing degrees at Cal State Dominguez Hills as an assistant professor of pharmacology, and also served as an externship professor for the USC School of Pharmacy.
Sen. Stone was honored in recognition of his commitment to work with CANP on legislation that secures an NP's role in providing medically assisted therapy to those struggling with opioid addiction. His Senate Bill 554, signed into law September 11, 2017 by Governor Jerry Brown, conforms California law with recent changes in federal law to permit nurse practitioners and physician's assistants the authority to prescribe medication for opioid addiction treatment.
"In the process of working with Senator Stone on this measure, we found him to be someone who is well familiar with the value that nurse practitioners bring to our health care system, and who is eager to continue working with us on assuring that value is fully realized," said CANP President-Elect Karen Bradley in presenting the award.
"At a time when we face a shortage of providers needed to meet the medical needs of Californians, I have always seen nurse practitioners as bonafide health care professionals," said Sen. Stone in accepting the award. "NPs have done so much to fill in the gaps, especially in rural areas like much of the district that I represent."
The NP Advocate of the Year award is presented by CANP in recognition of contributions to the NP profession by those in the legislative, policy and regulatory realms. Since its institution in 2002, previous recipients of the NP Advocate of the Year Award have included Assemblymember Susan Talamantes Eggman (in 2017), Micah Weinberg, President of the Bay Area Council Economic Institute (2016); Assembly Speaker Toni Atkins (2015); Senator Gloria Negrete-McLeod (2011); Assemblymember Ed Hernandez (2008); Michael Loughran, Executive Vice President for Healthcare Division at NSO (2006); Assemblymember Cindy Montanez (2004); Senator Liz Figueroa (2003); and Jake Mater, Senior Manager of Government Affairs with Aventis Pharmaceuticals (2002).